17 Apr

Prince Philip's funeral: The nation falls silent to remember Duke of Edinburgh | UK News

The United Kingdom fell silent for a minute of reflection ahead of Prince Philip's funeral on Saturday afternoon.

Pupils at Gordonstoun School in northern Scotland stood in silence on the south lawn for their former pupil.

The school bell tolled to mark the start of a minute's silence and a piper marked its end.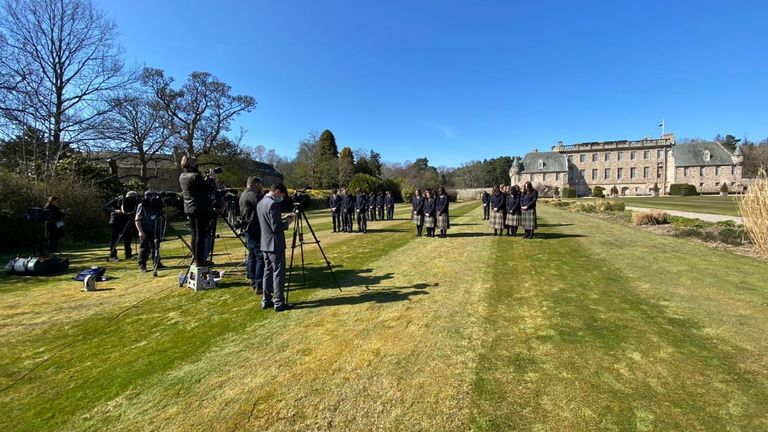 Standing on the roof by the school's flag at half mast, 17-year-old student John Prendergast played Flowers Of The Forest.
Earlier, he had played the same tune on Hopeman Harbour wall, as pupils laid a wreath in the Moray Firth, where the Duke of Edinburgh learned to sail as teenager.
The prince arrived at the school in 1934 as a 13-year-old, going on to spend five years there as a boarder.
At Hillsborough Castle in Northern Ireland, two rounds were fired marking the beginning and end of the silence.
Castle staff tweeted a photo of flowers beneath a tree planted by Prince Philip in 1949 during the first of his many visits to the site.
In England, a pub sharing the prince's name, a Liverpool naval club, and the National Memorial Arboretum in Staffordshire were among the places observing the minute's silence in his memory.
The ninth bell at Blackburn Cathedral was tolled with a half muffle by Ray Hutchings of the Lancashire County Association of Change Ringers.
The bell, cast in 1949, and weighing almost a tonne, has been fitted with a leather muffle on one side of the iron clapper, creating a sound of alternate loud and quiet rings.
By tradition a full muffle, with leather fitted to both sides of the clapper, is reserved for the death of the monarch.
In Wales, residents at the Hillbury Care Home in Wrexham are living with dementia but staff said many were aware of the day's significance.
They told Sky News they had spoken during the week of the sadness they feel and of their support for the Queen.
One of the residents said: "I've seen the Queen. Very sad. Very sad."