17 Jun

DUP leader Edwin Poots nominates Paul Givan as Northern Ireland's new First Minister despite concerns within own party | UK News

DUP leader Edwin Poots has formally nominated Lagan Valley MLA Paul Givan as Northern Ireland's new First Minister at a special sitting of the Stormont Assembly.

The nomination comes after the DUP and Sinn Fein agreed that the British government will legislate on the contentious issues around Irish language use.

Arguments over the promised legislation had threatened to prevent attempts to resume business at Stormont.

Sinn Fein asked the British government to go over the heads of the assembly, saying it would not return to power-sharing with the DUP without a firm commitment to the legislation.

The DUP had indicated it would not commit to a definite timetable.

Following the nomination, Sinn Fein's Conor Murphy put forward party colleague Michelle O'Neill as Northern Ireland's deputy First Minister.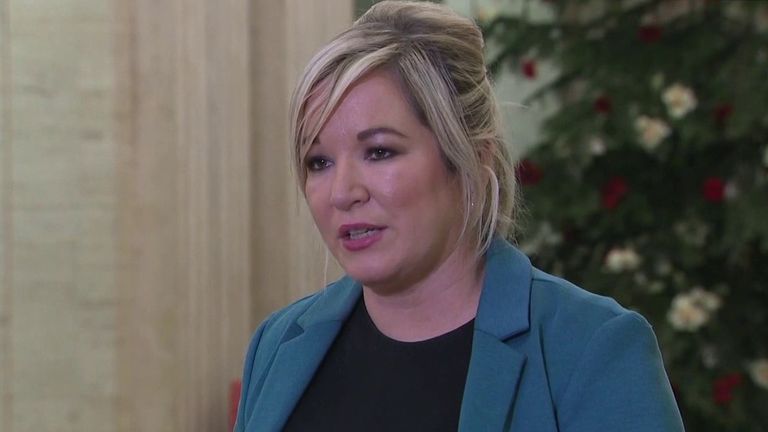 Sky's senior Ireland correspondent David Blevins said he understands from sources in the meeting that "the vote against nominating a first minister was decisive within the DUP group somewhere in the region of 20 MPs and MLAs voted against, only around six voted for".
He added: "So despite the fact that the majority of his own party have told Edwin Poots not to nominate a first minister at this stage, because of their concerns over how the British government and Sinn Fein are dealing with the whole Irish language issue, he has gone into the assembly chamber and done that anyway.
"I have no idea what that literally means for the DUP, I suspect there is going to be a serious challenge to his leadership now and even a question about how long he will remain as leader, just three weeks after he won the contest to succeed Arlene Foster.
"The unionist electorate is already very angry about the Brexit protocol having been imposed by the British government, creating that trade border in the Irish Sea, and they see this as a further concession, so many elected unionists will be concerned about their seats given the depth of feeling there is about this within the unionist community."